Friends, I would like to take a moment here to address something that may seem non sequitur. But believe me when I tell you it is of the utmost importance that you read these words and truly take the time to weigh their meaning.
Wired is
currently taking nominations
for the sexiest geeks of 2006. It is imperative that you consider putting your support behind Garrick T. Pass.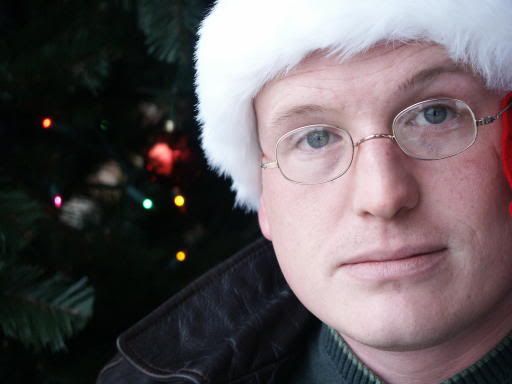 But don't just do this because I asked you to. Get to know the man, the legend the geek himself.
See, I know what you are saying now, what makes Garrick so f--king good? I don't f--kin' know, and I don't like it! I stay up going F--K! Why can't everybody f--kin' have it?
Cause this is the thing... Some people learn it on the streets. Some people learn it in the schools. Garrick was f--king born with it, homes... Check it out.
This is a man who put his life and kidneys in desperate peril only to snag a free Playstation 2. Did he stop drinking Diet Coke once he had accumulated enough points? No sir. He stayed on the path. This is a man who plays a werewolf/underwear model in Werewolf: The Forsaken!
But he's no poser. No sir ... he got the goods. He's a tech extraordinaire, dispensing useful hacks on his blog, as well as cutting diatribes about the state of I.T. The man debugged a Windows issue via e-mail from two thousand miles away! He is indeed a tech ninja ... nay, a tech Jedi.
All those smarts, and he's got a great wife and kid.
You and I have a rendezvous with destiny. We will preserve for our children this, the last best hope of man on Earth, or we will sentence them to take the last step into a thousand years of darkness.

We will keep in mind and remember that Garrick Pass has faith in us. He has faith that you and I have the ability and the dignity and the right to make our own decisions and determine our own destiny.

Thank you very much.
-- Andrew Moore

[Please note that this blog entry contains passages from "Cosmic Shame" by Tenacious D and Ronald Reagan's 1964 speech to endorse the candidacy of Barry Goldwater.]